Posts Tagged 'Inferno'
Terça-feira, Maio 15, 2012 @ 10:05 PM
O Kyosho MP9 TKI3 é o culminar de 50 anos de experiência a fazer dos melhores carros RC, é a única marca existente no mundo a a trabalhar à mais tempo.
O TKI3 é parte do legado que começou em 1992 com o Inferno que venceu o primeiro IFMAR World Championship. Até hoje o MP9 venceu 8 Campeonatos do Mundo para o Kyosho Inferno, vencendo 8 das 10 provas que até hoje houve. É puro domínio no quente ambiente que são esses campeonatos.
è o mais desenvolvido, é a maquina mais "refinada" de RC e está já neste preciso momento ja disponível na JMA Modelismo.
Novos updates:
• Transmissões – Novas transmissões universais, 3,5mm, mais resistentes que os anteriores
• Torre da frente – Torre da frente construída em material mais rijo, conhecida versão "hard", similar á usada no Campeonato do Mundo de 2011
• Parte eléctrica – Caixa para pack e receptor re-desenhadas, compatível com o interruptor da KO propo.
• Placa de rádio – Placa de servos com novo design, mais eficaz, mais linear e simples no trabalhar dos links.
• Servos – A placa de rádio também sofreu uma alteração ao nível da posição dos servos, que agora facilita ainda mais a manutenção ou substituição dos servos.
Sexta-feira, Julho 29, 2011 @ 02:07 PM
designed by Yuichi Kanai, the most ingenious designer of 1/8th
Just like all the previous MP series of Infernos, the Inferno MP9 has been designed by Yuichi Kanai, the most ingenious designer of 1/8th scale 4wd buggies in the world as demonstrated by the racing results over the years in RC.
The MP9 is designed to be an compromised competition 1/8th scale buggy. Here is some of the design criteria Yuuichi Kanai used for the MP9′s development:
He started with lowering the overall mass of the drive train and chassis. Weight reduction on the drive train alone has resulted in 200g of reduced rotating mass over the MP777 WC. This has enhanced the acceleration, lowered the Center of Gravity as well as improved overall handling for the buggy.
Centering and redistributing the mass on the chassis to improve on the MP777 series of cars. The result has been improved dynamic handling over the MP777 series of buggies which translates into more aggressive and responsive handling characteristics. Cornering speed has also been improved by the changes. The engine has been moved forward 15mm and moved toward the center by 4mm.
The completely new suspension geometry work hand in hand with the improved mass distribution, weight reduction, lower C.G. and improved chassis dynamics creating a better accelerating, jumping and turning buggy.
Improving the aerodynamics was also high on the priority list. A new body and wing were designed using a wind tunnel. This has resulted in a body and wing combination that provides optimum aerodynamics when airborne and efficiency when flying down high speed straightaways.  Improving the stability of the car is yet another achievement for the aerodynamic design.
Quinta-feira, Julho 21, 2011 @ 11:07 AM
The Best Ready to Run Buggy in the World!
Based on the most successful off road 1/8th scale racing buggy in history to this day, the new Kyosho Inferno Neo is a big update from the US Sports 4. With racing heritage you can trust with 7 world championships under its belt. New looks are not the only improvement!The Neo has new design features influenced or taken directly from the Kyosho Inferno MP9 series of competition racing cars. New features like the Lager diameter slotted wheels from the MP9, the same style composite chassis braces that offer the right amount of flex and durability and composite big bore shocks for improved bump handling and jumping. The INFERNO's blood runs thick in the Inferno Neo Sports 5 so you can't go wrong for your first GP buggy.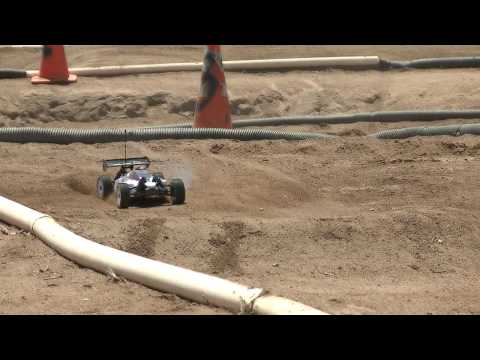 Now with turnbuckle tie rods on the upper suspension arms to allow a wide scope of adjustment.The Inferno Neo still retains the smooth and comfortable Inferno driving feel that only comes with decades of refinement.
The ready to run package includes a 2.4Ghz Syncro FHSS R/C system with all the linkages pre-set and all the main parts pre-assembled so its fast out of the box as well as out on the track. The new stronger steering linkage with turnbuckle adjustment for quicker and more precise setup and more durability.Equipped with new high-torque servos and upgraded from dog bones to universal joints on front axles to handle whatever punishment you can dish out.
To get going all you must do is attach the air cleaner and antenna, add fuel and set and put in the batteries. (not included).
Don't make a mistake with your first GP buggy – choose the INFERNO!
Mais Info